Preparation
Check out the Nature Resist Guide. All melee and hunters are expected to reach well over 200 NR buffed, bring as much as you can without breaking the bank. Tanks, healers and casters are not required to farm NR.
The focus of this guide is to assist the raid in overcoming the challenges of AQ40 trash and boss fights. It will not go into details around how the loot system works or how faction gain ties into the raid progression as these things are covered elsewhere.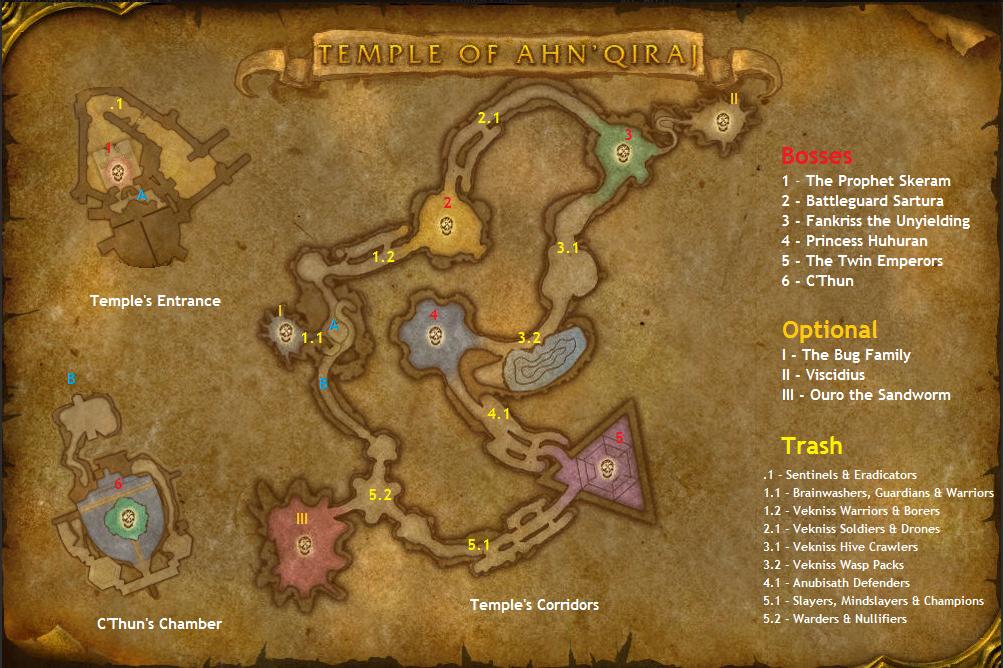 Consumables
All raiders are expected to bring consumables to each raid. The numbers below are for progression.
20 x Major Healing Potions
20 x Major Mana Potions for casters
20 x Greater Nature Protection Potions for melee
10 x Greater Nature Protection Potions for casters
10 x Greater Shadow Protection Potions
10 x Greater Arcane Protection Potions for Skeram till on farm
10 x Limited Invulnerability Potions
5 x Frost Oil for melee
Bandages
Barov Peasant Caller is useful

Clear routes
As only 6 of the bosses are mandatory, a fast clear requires only clearing bosses as follows:
A full clear would look more like this:
Trash packs
Trash before The Prophet Skeram - Anubisath Sentinel
Packs of 4 Anubisath Sentinels are the first encountered trash in AQ40. Each Sentinel has a random skill and upon death that ability is passed to the others as well as restoring 50% of their life. This means the weakest stills will be tackled first and all DPS must focus on the same target. Detect magic should be cast on all of them. Kill order as listed below.
Fire and Arcane Reflect - Mages use ice spells.
Shadow and Frost Reflect - Warlocks and shadow priests cannot use shadow spells and mages avoid frost.
Mending - Heals over time, rogue poison or mortal strike can help.
Knock Away - Basic knockback however this Sentinel is also immune to taunt.
Thorns - 500 nature damage reflect per attack. Nature resist gear can mitigate this.
Mortal Strike - 50% reduced healing on target.
Mana Burn - in an area around Sentinel, should be tanked away from raid.
Thunderclap - Area effect nature damage, should be tanked off to the side and killed late.
Shadow Storm - Volley of shadowbolts that deal large damage to players OUTSIDE of melee range.
Trash before The Prophet Skeram - Obsidian Eradicator
These drain mana from the closest 16 casters. If they ever reach 100% they discharge a massive nature nova up to 30 yards. If needed warlocks, priests and hunters can drain and burn mana.
Drain Mana - Take mana from nearest 16 players.
Shock Blast - Release nature damage nova up to 30 yard range for massive damage.
Trash before Princess Huhuran - Qiraji Brainwasher & Vekniss Guardian
Qiraji Brainwasher and 2 Vekniss Guardian in each pack. Kill the brainwasher first and tank the guardians under an overhang so the knock up doesn't cause fall damage.
Qiraji Brainwasher Abilities

Cause Insanity - 10 second charm and buff. Crowd control charmed raider.
Mana Burn - Burns mana and does damage to target.
Mind Flay - Shadow damage and self heal, can be interrupted.
Vekniss Guardian Abilities

Impale - Bleed damage and knock up that can cause significant fall damage.
Enrage - Standard enrage effect.
Trash before Princess Huhuran - The Bug Tunnel
There are two types of bugs in the tunnel: Vekniss Soldier and Drones. The challenge is managing the threat on the drones while killing them in clumps.
Agro Drones - Calls nearby drones in when a Soldier is pulled.
Cleave - Hits 3 targets in front of the Soldier.
Debilitating Charge - 8 second snare will almost always hit a tank.
Frenzy Aura - Increased attack and damage for Drones and Soldiers nearby.
Trash before Princess Huhuran - Vekniss Warrior & Vekniss Hive Crawler
The Warriors have no special abilities apart from spawning some non elites on death, the Crawlers use the following abilities which should be countered.
Poison Bolt - 10 second nature damage dot, should be cleansed.
Mind-numbing Poison - Slows cast time, remove from healers first.
Crippling Poison - Snares those affected.
Sunder Armor - Stacks up to 5, reduces armor on target.
Trash before Princess Huhuran - Vekniss Wasp Pack
Hunters will want to pull these out of the room near Huhuran. A pack will consist of Vekniss Wasps, Vekniss Stingers and Qiraji Lasher. The Wasps will use an ability called Itch which after 10 seconds applies a debuff called Vekniss Catalyst which slows and damages the player but also makes them vulnerable to the Charge from the Vekniss Stinger. The Lasher will lose agro randomly and run around attacking players, but can be stunned and taunted. Quick removal of the Vekniss Catalyst is needed to stop raiders dying to random charges.
Trash before The Twin Emperors - Anubisath Defender
There are 5 of these and they should be engaged individually as they are amongst the hardest trash in the zone. Like the other Anubisath they have a random set of abilities that must be identified and adjusted to.
The will summon Anubisath Warriors and Anubisath Swarmguards which should be offtanked. Swarmguards should be tanked facing away from the raid as they cleave and the Warriors should be tanked against a wall to avoid the knock back from their Uppercut.
Reflect Fire Arcane or Reflect Shadow Frost
Reflect Fire Arcane - Avoid these types of spells
Reflect Shadow Frost - Avoid these types of spells
Meteor or Plague
Meteor - Does massive damage but distributed on all raiders at the impact site. The raid will need to stack up to prevent deaths.
Plague - A nature dot that can be spread to others, raiders with this effect will need to move away from others.
Shadow Storm or Thunderclap
Shadow Storm - Shadowbolt volley on all target outside of melee range.
Thunderclap - Nature damage on everyone in melee range.
Enrage or Explode
Enrage - Increased attack and damage.
Explode - Will explode for massive fire damage after a short while. Either burst him down or run away.
Trash before C'Thun - Qiraji Champion Packs
These packs should be pulled back into Twin Emperors room. The makeup of the pack is random so the raid will need to adjust. Mindslayers should die first - they are immune to taunt so manage threat; and they should also be removed from raid before they die to avoid the mana burn fear from hitting many raiders. Tanks holding Slayers will want their backs to a wall, and hunters should be ready to tranquilize them.
Qiraji Champion Abilities
Cleave - Hits up to 3 targets in frontal cone. Face away from raid.
Intimidating Shout - Area effect fear, fear ward should be used on tanks.
Knock Away
Vengeance - Increased attack speed and damage but this can also be dispelled by a priest.
Qiraji Slayer Abilities
Cleave - Hits up to 3 targets in frontal cone. Face away from the raid.
Whirlwind - Area of effect weapon damage. Avoid this hitting the raid.
Frenzy - Increased attack speed and damage, use Tranquilizing Shot.
Battle Shout - Buffs the damage of the Slayer and any other monsters near it. Slayers should be separated early to avoid this.
Knock Away
Silence - Casts periodically near the Slayer and is a long silence effect.
Qiraji Mindslayer Abilities

Cause Insanity - Charms raider and increases their speed and attack. Can be crowd controlled.
Mana Burn - Area of effect near the Mindslayer that occurs when they die. Burns mana and fears.
Mind Flay - Channeled shadow damage on a random raider which can be interrupted.
Mind Blast - Hits random raider for shadow damage.
Trash before C'Thun - Anubisath Warder & Obsidian Nullifier
The last few packs are made up of 1 Warden and 2 Nullifiers. The Warden will have random abilities as well as a Fire Nova. The Warder should be pulled to the side while the raid burns down the Nullifiers making sure they never cast a nullify.
Fire Nova - Deals fire damage to all targets near the Warder.
Entangling Roots & Fear
Entangling Roots - Targets a random Raider and roots them and anyone near them.
Fear - Area of effect near the Warder, so the tank needs fear ward.
Dust Cloud & Silence
Dust Cloud - Reduces chance to hit by 85%. This creates an issue for threat generation.
Silence - Area of effect silence around the Warder. Healers can stand outside the range and still reach the tank.
Obsidian Nullifier Abilities

Cleave - Hits up to 3 targets in a frontal cone. Face away from the raid.
Drain Mana - Steals mana from the nearest 16 players.
Nullify - Removes all buffs and reduces health to 1 for all targets near the Nullifier.

The Prophet Skeram
The raid will want to spread out over all three platforms, leaving an off tank and a rogue on each platform with the main melee group at the center and the ranged and healers on the topmost platform. Every 25% life Skeram will create two clones which will need to be agroed and tanked. The clones will need to identified and should be focus killed by ranged and the assigned melee before DPS returns to the true Skeram. During his last split at 25% the real Skeram should be focused as his clones will despawn once he is killed. Mages will need to be quick to sheep the raiders who get charmed. Rogues and warriors should interrupt the arcane explosions.
When Skeram blinks he should be picked up and pulled back to the middle platform.
Drain mana can be used on the real Skeram at the start of the fight to identify the clones from the real one after splits, as the clones always have full mana.
Greater nature protection and arcane protection potions can be used to help with damage while the encounter is learnt.
Skeram will only cast Arcane explosion if there are 5 or more raiders in melee range, however as cast time can be slowed and the spell can be interrupted it is preferred to simply dps him down and interrupt his casts.
Boss Abilties
True Fulfillment - 20 second charm and buff of nearest raider
Arcane Explosion - 1500 DMG can be interrupted
Earth Shock - 3000 DMG instant cast which will only occur while he is not tanked
Quartile Split - Every 25% life will split into 3 and reset agro
Blink - Teleports to one of the 3 platforms and resets agro
Role Specific Tasks

Tanks
One tank on each platform.
After split or blink, agro him immediately so he does not start doing earth shocks.
Melee DPS
Rogues and warriors should interrupt Arcane explosion.
Rogue assisting the off tank should stand very close to Skeram to draw the charm effect.

Ranged DPS
Will need to move along the top platform to get into range of their target.
Focus down clones after the switch - all focus on the same clone.
Mages should be ready to counterspell first Arcane Explosion after a blink.
Mages be ready to sheep the raider getting charmed.
Fear can also be used on charmed raider.
Warlocks should use curse of tongues on him to slow cast speed.

Healers
Most damage hits the tanks if fight under control.
Have dedicated healers assigned to off tanks.

The Bug Trio: Yauj, Vem, and Kri
Based on the order the bugs are killed in, specifically which bug is killed last dictates the loot for this encounter. The loot drops can be seen below.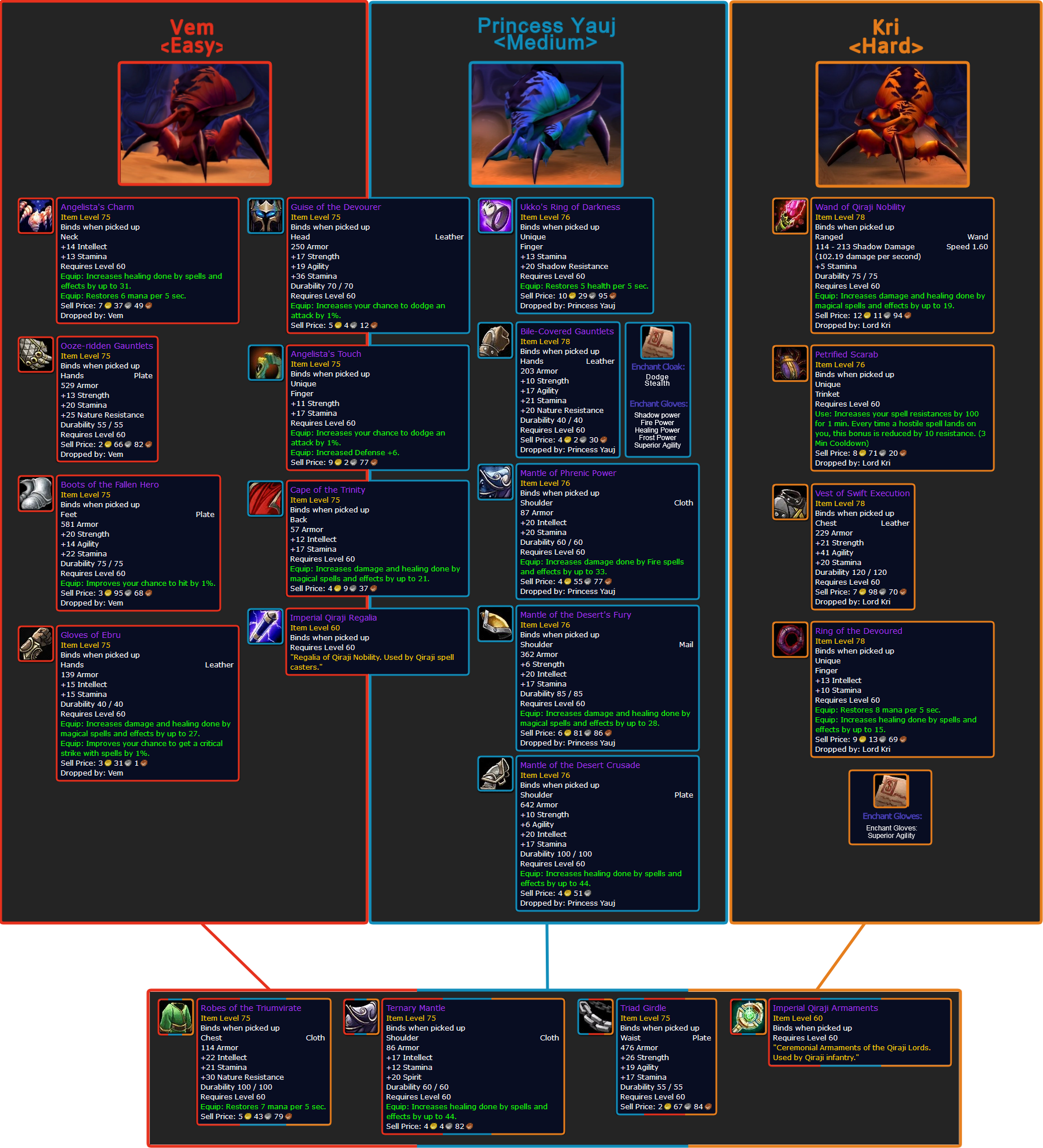 The easiest order is Lord Kri -> Yauj -> Vem. If you want loot from Yuaj the order is Kri -> Vem -> Yauj and the hardest order is Yauj -> Vem -> Kri. Regardless of the order the bugs will need to be tanked far apart. Each bug has an on death affect, the worst of which is from Vem who doubles the attack speed and special ability usage of the other bugs.

Vem
Vem will need to be tanked in alcove so only the tank is his line of sight to avoid him charging the raid until he is ready to be killed.
Charge
Knockdown
Knock Away
Vengeance - On death effect doubles the damage and use their special abilities twice as much.
Summon Player

Yauj
Tank on Yauj will need to have a fearward up so keep dwarf priests on this tank. Her heals will need to be interrupted.
Dispel
Fear
Ravage
Greater Heal
Summon Player
Bug swarm - On death effect spawns several bugs that need to be killed.

Kri
Kri isn't too hard to tank, it's the constant dispelling of his poison volley that becomes the issue.
Cleave
Summon Poison Cloud - On death effect 2000 dmg a tick
Thrash - Attacks twice
Toxic Volley - 500 nature dmg and stacking 125 dmg per tick
Summon Player
Role Specific Tasks

Tanks
Vem should be tanked in an alcove with only tank being in line of effect.
Use of berserker stance to void fear if you don't have a fearward up with Yauj.
Melee DPS
Rogues and warriors interrupt Youj.
Use pots to mitigate dot damage and possible remove poisons.
Do not stand in the poison cloud as Kri dies.

Ranged DPS
Mages interrupt Youj heal if melee are feared.
When Youj dies kill and control her swarming bugs.

Healers
Heavy poison removal is needed until Kri is killed.
Fear ward tank on Youj.
Stay out of line of effect of Vem to avoid being charged.

Hunters
Run poison resist aura until Kri is dead.

Battleguard Sartura
Sartura and her guards have similar abilities however hers do considerably more damage than those of her guards. Stuns are very useful in this encounter, though diminished returns are a factor. They are effective on all of them, however cannot be applied while they are whirl winding. Rogue Kidney Shot is especially useful as it shares a different diminished returns stack to other stuns. Identify magic allows raiders to see when a stun can be applied. Periodically the guards will temporarily lose agro and chase random raiders for 5 seconds before returning to the highest threat target. Use of limited invulnerability potions can really help when in a tight spot as they move faster than raiders can. Focus down her guards one at a time quickly, coordinating stuns to keep them in position for DPS to apply.
Avoid being near the tunnel leading deeper into AQ as the knockback could send a raider into an area and give us all flashbacks to Onyxia Whelp pits.
Cloth wearers should stand well clear of her.
Boss Abilties
Whirlwind - Up to 3k on clothies
Random Fixation
Sundering Cleave - Reduces armour of targets hit by whirlwind.
Enrage - 20% increased damage
Guard's Abilties
Sartura's Royal Guard
Whirlwind - Up to 1k on clothies
Knockback - Long distance push on random raider.
Random Fixation - Chase random raiders for 5 seconds
Role Specific Tasks

Tanks
Tank each guard away from each other so their whirlwind abilities don't stack up.
Once your guard is killed assist the main tank in keeping Sartura under control.
Melee DPS
Coordinate your stuns so not to hasten diminished returns.
Use limited invulnerability pots if necessary to avoid death.
Rogues
One rogue should be assigned to each guard and the boss. Build 5 combo points and then Kidney Shot your target when it is susceptible while it is being focussed.

Ranged DPS
Spread out and be ready to run if chased.
Use limited invulnerability pots if necessary to avoid death.
Mages use detect magic on each guard to show when it is stun immune.

Healers
Spread out and be ready to run if chased.
Use limited invulnerability pots if necessary to avoid death.
Paladin stun is useful. Coordinate the correct time to use it.

Fankriss the Unyielding
This encounter requires two tanks on the boss and 3 offtanks to pick up adds from the 3 bug tunnels around the room. Randomly raiders will be ported to these tunnels and rooted for a while. The adds need to be picked up by a tank and held until Fankriss + spawn are dead. They can be snared and feared but not rooted.
The most important part of the fight is the Spawn of Fankriss which hits hard and needs to be stunned / tanked and killed in under 20 seconds. All DPS need to switch to it and kill it quickly.
Boss Abilties
Fankriss applies a stacking heal reduction on all targets in front of him. Tanks must switch tanking him at 3 to 5 stacks making sure they are far enough apart so both of them do not receive the stacks.
Boss Abilties
Mortal Wound - Stacking 10% heal reduction
Add's Abilties

Spawn of Fankriss
Must be stunned and killed as soon as possible.
Berserk - After 20 seconds hit for 20k
Role Specific Tasks

Tanks
Two tanks take turns tanking Fankriss switching every 3 to 5 stacks.
Offtanks pick up adds around the bug tunnels and tank them.
Melee DPS
Switch to Spawn of Fankriss and kill it quickly.
Stun the spawn to prevent it's damage.

Ranged DPS
Switch to Spawn of Fankriss and kill it quickly.
Fears can help bug tunnel tanks.

Healers
Healing the two tanks on Fankriss is not all that hard.
Be ready for spike damage on random raid members when Spawn of Fankriss is up as it hits hard.
Fears can help bug tunnel tanks.

Hunters
Frost traps help bug tunnel tanks when they have large amounts of adds on them.

Viscidus
This boss rotates through 3 phases until killed. He can be reset by having the raid run out of the room if an attempt is going poorly. Nature resist gear and frost based weapons and wands are helpful in this encounter and the use of nature protection potions also help.
Phase 1: Freeze Phase
In the first phase Viscidus needs to be struck by as many frost based abilities as possible. The damage of the ability doesn't matter - only the number of impacts count. Non mage casters will want to use a fast frost wand, while mages will cast low level frost bolts. Melee can help if they have Coldrage Daggers or Darrowspike (this needs to be confirmed) and use of frost oil will help as well.
He must receive enough frost hits within the allotted time to be pushed to the next phase or he will revert.
"Viscidus begins to slow." - Movement and attack speed reduced by 15%. This phase begins after 10 frost abilities were used against the boss.
"Viscidus is freezing up." - Movement and attack speed reduced by 30%. This phase begins after 15 frost abilities were used against the boss.
"Viscidus is frozen solid." - Movement and attacks cease completely. At this point the raid must switch to melee attacks to shatter him. This phase begins after 20 frost abilities were used against the boss.
Phases 2 & 3: Shatter & Glob Phases
Once frozen he needs to be shattered, again this needs to happen quickly or he will thaw. To achieve this he needs to be struck by as many melee hits as possible in the time allowed. Even casters will want to run up and melee.
Viscidus begins to crack." - Continue melee attacks.
"Viscidus looks ready to shatter." - Continue melee attacks.
"Viscidus explodes." Enter Phase 3.
Viscidus shatters into up to 20 "Globs of Viscidus" in a circle around the room. These Globs will begin to move towards the center of the room, slow at first, but continuously and steadily gathering speed. Each glob has around 10 - 15k health and represents 5% of his total life. Each glob must be killed, or damage done to it will not matter. They cannot be slowed or stunned. Once they reach the center, Viscidus will be reformed (missing whatever glob %hp you've killed) and he will return to the first phase.
Boss Abilties
Poison Shock - 1200 Nature damage every 10 seconds. 15 yard radius.
Poison Volley - 1500 Nature damage AoE cast every 10 second which adds a 500 damage dot that is dispelable. 100 yard range and ignores line of sight.
Toxin Clouds - 1500 damage every 2 seconds and slows movement speed by 40%. Cast ever 30 - 40 seconds. Cloud is larger than it appears and can be anticipated by seeing a single target poison bolt.
Role Specific Tasks

Tanks
Only a single tank is needed for this fight. While unslowed Viscidius hits pretty fast.
Avoid standing in Toxin Clouds.
Melee DPS
Freeze Phase
If you have frost procing weapon(s), wear nature resist gear and melee.
Frost Oil can be used here.
Otherwise stay mounted at 100+ yard range.
Avoid standing in Toxin Clouds.
Shatter Phase
Charge into the room and melee boss through the shatter phase.
If you assisted with frost weapons, switch to good weapons here.
Focus down Globs of Viscidus.
Use sapper charges if you can.

Ranged DPS
Freeze Phase
Use frost based attacks or wands.
If you do not have any, stay mounted at 100+ yard range.
Wearing some nature resist gear will help healers conserve mana in the fight.(TBC)
Avoid standing in Toxin Clouds.
Shatter Phase
Melee until he shatters.
Focus down Globes of Viscidus.
Any damage or cast time increases should be used. AoE is ok as long as Globs are dying and not just taking damage.

Healers
Freeze Phase
Tank will take a lot of damage during this phase.
Dispell the Poison Volley dots.
Keep casters, melee and healers in range alive.
Avoid standing in Toxin Clouds.
Shatter Phase
Melee until he shatters.
Top up all raiders and be ready to keep the tank up.

Princess Huhuran
Phase 1
During phase 1, lasting until 30% life, the raid tanks and melee should be in a tight ball near boss while the ranged dps and healers spread out around the room keeping distance to avoid spreading Noxious Poison. Hunters use of tranquilizing shot is critical and she should never remain in frenzy long enough to put out a Poison bolt volley. Her Wyverns Sting ability will hit 10 raiders in melee at random, including pets and should not be dispelled unless it's on a tank as removal does 3000+ nature dmg. She cannot be taunted so the two tanks should work to pass threat after gaining around 10 stacks of Acid Spit.
Phase 2
Once she reaches 30% life she will enrage and the fight becomes a DPS race. All big cooldowns should be saved for this phase. She will cast constant Poison Bolts every 2 seconds. All melee should use a Greater Nature Resistance potion and also Barov Peasant Callers at this point. Priests in the melee groups will want to be casting group heals on Cooldown. As melee will be wearing a lot of Nature Resistance gear for this fight, the bulk of the damage will come from the casters.
She has a hard enrage timer of 5 minutes.
The Dwarven racial skill Stoneform will make the raider immune to Huhuran's poison spit for 8 seconds, while still being counted as one of the 15 soaks.
Boss Abilties
She has a number of abilities that must all be dealt with for a successful kill.
Frenzy - Tranquilizing her before she does Poison Bolt.
Poison Bolt - 2000 nature dmg to nearest 15 raiders.
Acid Spit - 219 to 281 nature dmg per stack every 2 seconds. Stacks cannot be resisted.
Wyvern Sting - AE on 10 targets inckuding pets for 12 seconds.
Noxious Poison - 2900 nature dmg over 8 seconds and silence.
Role Specific Tasks

Tanks
There is a disagreement if tanks should aim for high nature resist (300+) or focus on having high health pools. It is recommended to have nature resist gear prepared.
Phase 1
Manage threat and Acid Spit stacks betweeen 2 or 3 tanks.
Build a threat lead on the melee for the burn phase.
Phase 2
Melee DPS
Phase 1
Stay as close as possible to the boss.
Save cooldowns for phase2.
Phase 2
Use a Greater Protection Nature potion when you start dropping in life.
Use Barov Peasant caller to diffuse damage.

Ranged DPS
Phase 1
Manage threat.
Spread out.
Use Barov Peasant caller to diffuse damage.
Phase 2
Use cooldowns and burn boss.

Healers
Phase 1
Spread out.
Do NOT dispell Wyvern Sting from melee or threat dropping tank, let them sleep.
Phase 2
Druids innervate priests
Priests for melee groups spam group heal.

Hunters
Use Tranquilizing shot quickly when she frenzies.
If required run enough Nature resist gear to act as a melee soaker.
Use Aspect of the Wild.

Twin Emperors
This encounter involves several interesting mechanics. Two warlock tanks as well as two regular tanks are needed. The two bosses need to be pulled and positioned near the torch on their respective sides as it serves as a good marker. Periodically the twins switch places via a teleport, clearing their agro and staying stationary for 2 seconds. After that they agro on the closest raider which should always be a tank. On Emperor Vek'lor's side a warlock will work to pull agro off the tank and proceed to serve as tank for the rest of that phase. This is because the boss won't tolerate a melee in range and will need to be the target for all caster DPS.
Emperor Vek'nilash on the other hand is immune to all spell damage and will be the target of the melee and hunters. These will need to run across the room just before the switch is due to take place. While the casters will be doing the same on the stairs. Due to the shorter distance the casters will be primarily in charge of clearing the bugs.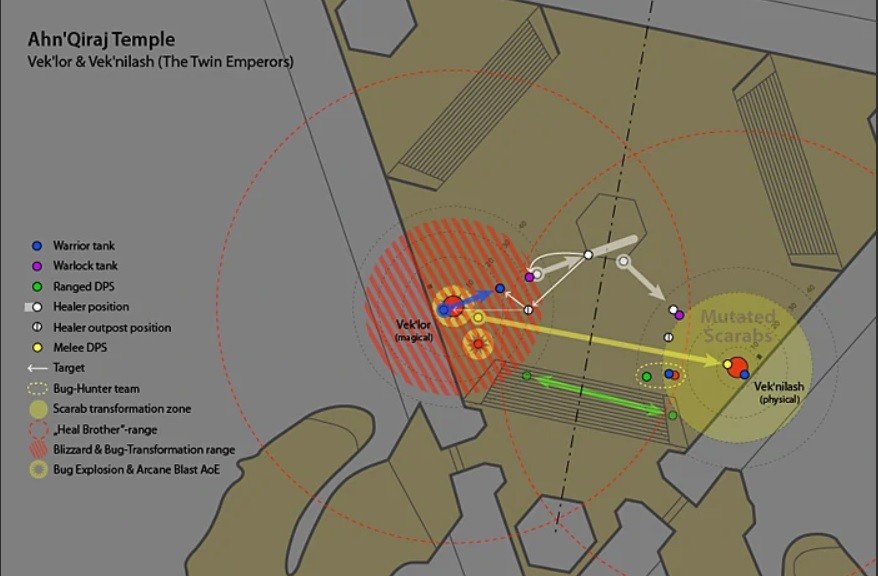 Boss Abilties
Shared abilties
Heal Brother - Whenever the twins get within 60 yards of one another, they will spam heal each other for 30000 health/tick. Keep them far apart.
Twin Teleport - Every 30 to 40 seconds, the two twins will switch places, visible by a blue glow around their feet. The twins will be rooted for about 2 seconds after they teleport before they start attacking again. There is a complete aggro wipe, and the Emperors will attack the closest raider to them, who will receive a large amount of threat after the 2 second root runs out.
Berserk - After 15 minutes, the Emperors will go berserk dramatically increasing damage and wiping the raid. Note that they still can be downed during berserk if they have very low health left.
Combined Health - The Emperors share percentage health. Damage to one emperor hurts the other emperor as well. HP of Vek'nilash is about 1.6M, HP of Vek'lor is about 1M. Therefore 100k damage done to Vek'lor equates to 160k damage done to Vek'nilash. This allows them to die simultaneously, but not in fact have the same real HP. Only their HP percentages go down simultaneously. This causes casters to have a greater effect in this fight than melee damage dealers.

Emperor Vek'nilash
Uppercut - Inflicts 350% weapon damage and leaves the target unbalanced, reducing their defense skill by 100 for 6 sec.
Mutate Bug - Mutates a bug every 10-15 sec or so making it grow to a gigantic size and attack the raid.

Emperor Vek'lor
Shadow Bolt - Spams on his aggro target, hits for 3000-4000. Partially resistible.
Blizzard - Slows and damages everyone within its area of effect. 1500 damage per tick.
Arcane Burst - 4000 to 4950 arcane damage AoE counterattack whenever a raider is within melee range. Knocks back anyone it hits and slows their movement speed by 70%.
Explode Bug - Every 7 to 10 secs Emperor Vek'lor forces a nearby bug to explode, blowing it up and dealing a huge amount of fire damage over a wide area.
Add's Abilties
Qiraji Scarabs/Qiraji Scorpions
Virulent Poison - Stackable DoT randomly procs on melee attack.
Explode Bugs - grow to 200% size, and their tentacles begin to spark. They explode 3sec after they are triggered and inflict between 2813 to 3187 fire damage.
Mutate Bugs - grow to 400% size, gain 300% health, melee for 1800% damage, as well as turn hostile. They must be tanked/killed since they otherwise stay mutated for 4 minutes and melee for 1000+ damage per hit.
Role Specific Tasks

Tanks
Tank on Emperor Vek'lor should make sure he recieves initial agro and then back off.
Tank on Emperor Vek'nilash should tank as normal.
An extra tank can pick up mutated bugs for the ranged to burn down.

Warlock Tank
Use Shadow Ward around 15 seconds before the switch so it refreshes while tanking.
Look at warlock spec builds, 175+ Shadow resist before buffs is recommended.
Shadow Burn or Death Coil on pull, casting dots to add agro while pulling to position.
Spam Searing pain to build threat while tanking.
Melee DPS
Switch sides of the room starting about 5 seconds before the teleport.
Avoid the exploding bugs.

Ranged DPS
Kill any Mutated bugs ASAP after the switch occurs giving the warlock a moment to build a threat lead.
Avoid standing in the blizzard.

Healers
Tank healers will stay on their side with the tanks and warlock.
Other healers will raid heal around middle.
Avoid the exploding bugs.

Ouro
Ouro has two modes he alternates between as well as an enrage phase. He will remain above ground for between 90 seconds and 3 minutes or until no one is in melee range, which can be caused by his sweep attacks. When he comes up on his first natural submerge window at 90 seconds, melee dps should move away from him as when he submerges he casts Dirt Mound Quakes. During the submerge phase raiders should spread out to avoid the quakes but keep together enough to receive heals and be ready for his emerge.
Once he re-emerges via his Ground Rupture he will knock all raiders close to him back and also use Summon Ouro Scarabs which should be AoE priority. When he reaches his berserk stage at 20% life his damage will increase and he will no longer submerge, but he will use both phase abilities at the same time. During the enrage phase it's recommended not to kill the adds but to fear or CC them and to focus on killing Ouro.
Positioning of the tanks is key to overcoming this encounter. Ouro can use a 180% frontal cone ability called Sand Blast on his highest threat target every 25 seconds which also wipes the threat of all targets hit by it. This means that tanks will be switching and off tanks must be careful to avoid being hit by the Sand Blast.
Boss Abilties
While above ground:
Sweep - 1,500 to 2,000 damage and knock back to all in melee range.
Sand Blast - 3,500 to 4,500 nature damage frontal 180 degree cone on highest threat target. Can be fully resisted but no partial.
Submerge - Burrows underground. Can be cast every 90 seconds or when no one is in melee range.
While submerged:
Dirt Mounds Quake - 1,500 nature damage every second while in quake.
Scarabs - hit for 300 on cloth, despawn after 45 seconds can be feared and CCed.
Ground Rupture - 2,000 damage to everyone in area where Ouro emerges.
Enrage - During enrage Ouro attacks 150% faster and hits for 100% more damage. He also uses his Scarabs and Dirt Mounds ability without submerging. While not tanked he will cast projectiles doing 6,000 damage.
Role Specific Tasks

Tanks
Above ground:
Highest threat tank face him away from raid to avoid Sand Blast striking raid.
Off tanks maintain high threat and be ready to charge in after Sweep to prevent Ouro from submerging.
Off tanks be ready to become main tank after Sand Blast clears main tanks threat.
Submerged:
Each tank should take a general quarter of the room to move within in case Ouro emerges near you.
Pick up Ouro as he emerges and face him away from raid.
Ouro often casts Sand Blast right as he emerges.
Melee DPS
Above ground:
Avoid taking threat off all tanks as tanks rotate throughout fight.
When 90 second mark approaches step back from Ouro so as to avoid Dirt Mounds, if he skips submerge go back in.
Save cooldowns for enrage phase.
Submerged:
Spread out and avoid Dirt Mound Quake.
Careful of the emerge damage, use potions.
Save cooldowns for enrage phase.

Ranged DPS
Above ground:
Use AoE to kill early Scarabs.
Avoid taking threat off all tanks as tanks rotate throughout fight.
Save cooldowns for enrage phase.
Submerged:
Spread out and avoid Dirt Mound Quake.
Careful of the emerge damage, use potions.
Save cooldowns for enrage phase.

Healers
Above ground:
Main tank may switch often and without much warning.
During enrage damage will spike considerably on both tanks and raid.
Submerged:
Spread out in general quadrant you were assigned.
Avoid Dirt Mound Quake.
Bubble raiders taking Dirt Mound damage.

Ouro Warlock Tank Strategy
This strategy extends the mechanics of the fight above.
Ouro's sand blast is always cast on the highest threat target and has a range of 45 yards. The goal with this strategy is to have that person be a warlock, who will maintain highest threat throughout the fight. Each time the sandblast is cast the warlock will dance out of the 45 yard range meaning he maintains his threat. For the rest of the time the Main tank in melee will still be tanking the melee hits, but will be positioned so that the sandblasts targeted at the warlock will never hit him.
If the warlock is hit by a blast his threat will be wiped and the Main Tank will be the target of the next sandblast at which point the strategy reverts to the standard one. The more cycles run successfully with the warlock maintain threat the less tanks we lose from the threat lineup meaning even if the warlock is struck half way we still have all our normal tanks to take consecutive blasts preventing DPS from becoming the target of the blast and having it turn on the raid.
As we want to make sure both the top threat melee tank and the warlock cones of sandblast do not include other raiders the raid as a whole needs to be in a very small slice (see the image). During the 20% enrage phase it may be necessary for the raid to move out of that small slice.
The 8:30 point on this dial points towards the door the raid comes in from.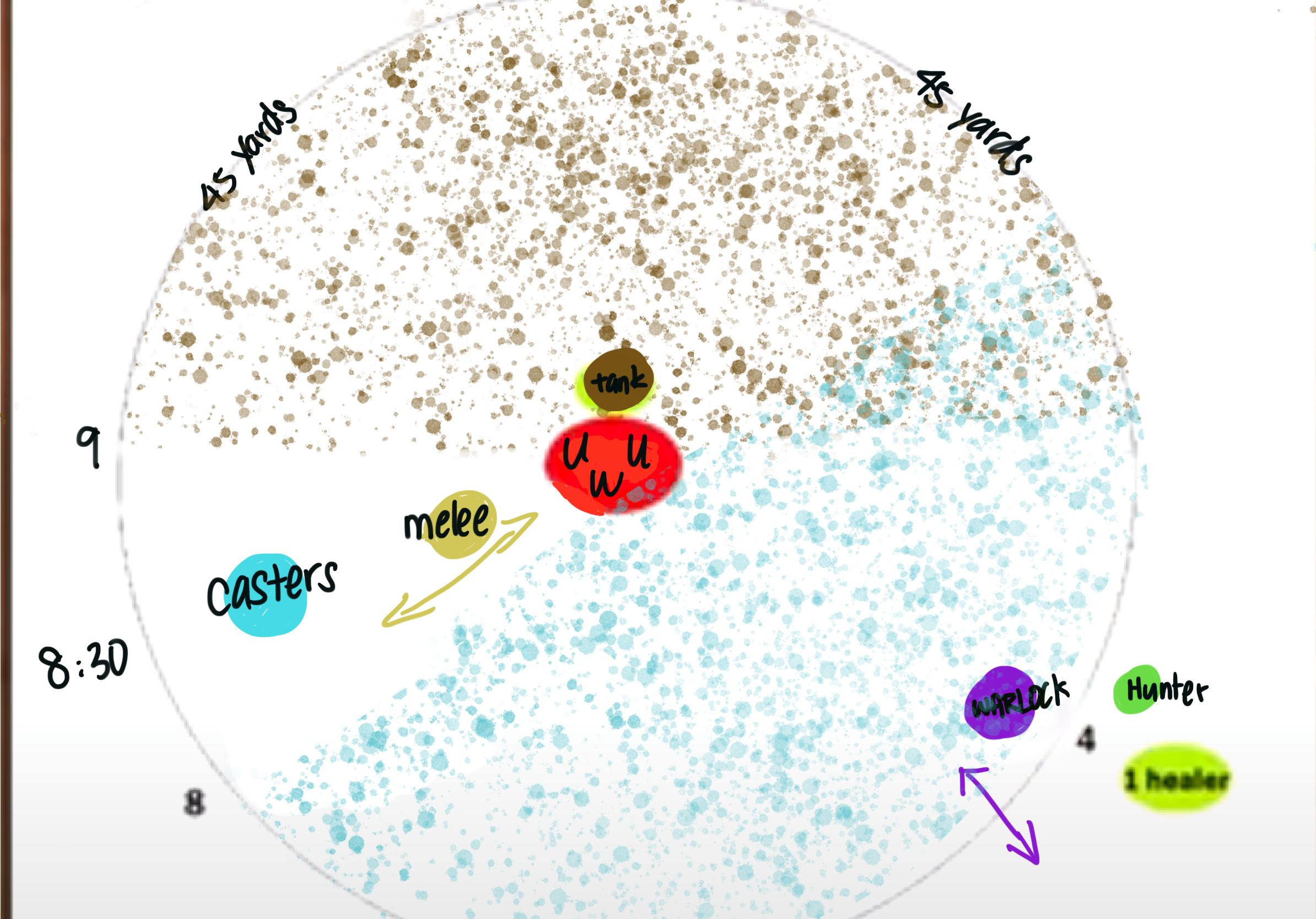 Role Specific Tasks

Tanks
See positioning guidelines, otherwise follow same as above.

Warlock Tank
See positioning guidelines.
Remove Salvation buff and wear threat items.
Spam searing Pain to maintain threat.
When DBM warns of the sand blast run past 45 yard range, after blast has gone out return and maintain threat.

Warlock Healer
Use Power Infusion on warlock on Cool Down.
Stay past 45 yard range.

Warlock Hunter
Keep Aspect of the Pack on the Warlock at all times.
Place a flare at the 45 yard mark as a guide.

C'Thun
Congratulations, you've reached C'thun!
This encounter has many mechanics that all raiders must be aware of and react to. Key aspects are how the raid enters the room and where raiders can stand and how they move during phase 1 and 2. Mistakes can quickly lead to deaths and even a portion of the raid force down can cause issues that compound to failure. To add to this, each kill requires use of consumables such as everyone having a greater nature resistance potion before the encounter starts. Please understand every aspect of this fight and what actions are expected and ask questions if you're still unsure.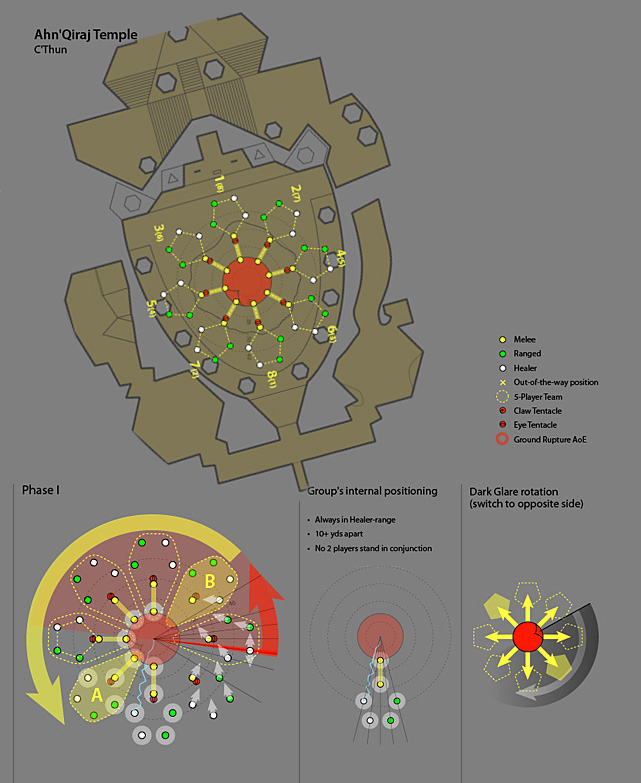 Phase 1
Movement into the room is critical to success. C'thun casts Eye Beam every 3 seconds at random raiders in the raid. This ability can jump to other raiders if they are closer than 10 yards and when it does its damage increases rapidly until it's killing raiders outright, which usually happens after the 3rd jump. Only on the initial pull is this ability guaranteed to hit the same raider twice (the first one he agroes on). That means within 6 to 9 seconds the entire raid must enter the room and assume their positions. After that point random bad luck could kill multiple raiders. Once in position all raiders must maintain this spacing for all of Phase 1.
Once in position all raiders can begin to damage the boss. Due to positioning there will be melee characters that cannot hit the boss. Every 45 seconds a ring of Eye Tentacles will spawn at the edge of the black ring. Avoid standing where they spawn as they knock back, and immediately mind flay random raid members. These can and should be interrupted and killed by the ranged and melee in the middle circle. The inner circle melee should keep damaging the boss.
Throughout the fight claw tentacles will also spawn which knock raiders away (and possibly close to other raiders). They should be killed but make sure to return to a safe distance before focussing them down.
C'thun will use Dark Glare every 45 seconds. His eye will turn red and the pupil will cloud over. He chooses a random initial direction. All groups near where he fixates will want to move away towards the side they are closer to, if right in the middle choose a side at will. Once safely away watch to see which direction he rotates and move accordingly, he will rotate 180 degrees clockwise or counter clockwise over 35 seconds. During the Dark Glare he does not cast Eye Beam so you do not need to maintain social distancing however eye stacks and claw tentacles keep spawning and should be killed by anyone who can. After he finishes all spacing must be in place and parties will find themselves on the opposite side of the room where they were before.
Once his life reaches 0 phase 2 starts. If all tentacles are dead raiders are removed from combat and should take this opportunity to drink/eat.
Phase 2
In phase 2 the raid will no longer need to be social distancing as strictly however it is important to keep similar places as in phase 1 for three reasons. By maintaining the spread raiders are always near where tentacles emerge, less raiders take damage from them emerging, can quickly engage them and also there are still eye beams being cast, this time be the Giant Eye Tentacles. These spawn every minute and have 36,000 HP. They can and must be interrupted or stunlocked as a single cast of an eye beam can kill many raiders. All forms of interrupt work. The regular Eye Tentacles are also still spawning every 30 seconds now and should be interrupted and killed.
As well as these there are now Giant Claw Tentacles that spawn that will need to be tanked as they melee for 1,500 on a tank and can thrash. If there are no melee in range they will submerge and emerge elsewhere doing damage again. They have 90,000 HP and will need to be killed but have the lowest priority.
C'thun is mostly immune to damage; to counter this immunity raiders who are swallowed into his stomach must kill the two flesh tentacles there. While in the stomach raiders will gain a stacking damage dot, which cannot be resisted but can be mitigated by using Greater Nature Resistance Potions. Tanks should leave the stomach immediately by standing on the center of the black platform.
Healers should stay and heal melee and ranged DPS in the stomach to prolong the period these can do damage to the Tentacles. Once a raider has between 5 and 7 stacks they should leave. Make sure to stand in the center of the platform when leaving and only one person may do so at a time.
Once both stomach tentacles are killed C'thun will enter a weakened state for 45 seconds. It is important to start debuffing him in advance of the weakened state. During this time no new tentacles will spawn and he can be damaged. It is important to do this when the Giant Eye Tentacles are dead or near dead so all damage can focus on C'thun. Any Giant Claw Tentacles up should be tanked but all damage should be focused on C'thun. Expect to drop him at least 50% on the first weakened phase. After the phase ends he will return to regular phase 2 mechanics and the raid should assume their positions.
Boss Abilties
Eye Beam - 2600 to 3300 nature damage and jumps to another raider within 10 yards increasing by 150%. Used every 3 seconds.
Dark Glare - 50,000 damage to anything the beam touches. Will rotate clockwise or counter clockwise over 35 seconds. Used every 45 seconds.
Add's Abilties

Eye Tentacle
Spawns every 45 seconds in phase 1 and every 30 seconds in phase 2.
Mind Flay - 750dmg per second
2300 hp
Susceptible to stuns etc
Emerge damage 1,500 with knockback

Claw Tentacle
Spawn every 5 to 10 seconds in phase 1.
Hamstring - slows target
1500 hp
Emerge damage 1,500 with knockback

Giant Eye Tentacle
Spawns every 60 seconds in phase 2, with a 30 second offset to the Giant Claw Tentacle
Eye Beam - tries to cast continuously and MUST BE INTERUPTED
36,000 hp
Susceptible to stuns, death coil, etc
Emerge damage 3,000 - 4,000 with knockback

Giant Claw Tentacle
Spawns every 60 seconds in phase 2, with a 30 second offset to the Giant Eye Tentacle
Thrash - 2 extra attacks
90,000 hp
Melee for 1,500 on plate
Emerge damage 3,000 - 4,000 with knockback
Will submerge and emerge elsewhere when not tanked.
Role Specific Tasks

Tanks
Phase 1
No need to tank C'thun
Avoid Eye Tentacle Emerge then kill if in middle ring
Kill Claw Tentacle if nearby
Phase 2
Tank Giant Claw Tentacles, use cooldowns as needed
Avoid Eye Tentacle Emerge then kill
If swallowed leave stomach immediately
Never stop tanking the Giant Claw Tentacles
Melee DPS
Phase 1
Inner Circle melee C'thun use cooldowns right away
Mid Circle avoid Eye Tentacle Emerge then kill
Kill Claw Tentacle if near
Phase 2
Interrupt Giant Eye Tentacle and kill
Avoid Eye Tentacle Emerge then kill
If swallowed, only remain to melee the flesh tentacle if a healer is present. Leave at 5 to 7 stacks
Melee Giant Claw Tentacle only if tanked
Use cooldowns on weakened C'thun

Ranged DPS
Phase 1
DPS on C'thun right away use cooldowns
Interrupt Eye Tentacles if needed, then kill
Kill Claw Tentacles as needed
Phase 2
Drink going into phase if possible
Interrupt Giant Eye Tentacle and kill
Avoid Eye Tentacle Emerge then kill
If swallowed, DPS till 5 to 7 stacks then leave stomach
DPS Giant Claw Tentacles as possible
Use cooldowns on weakend C'thun

Healers
Phase 1
Bubble and top up people taking eye beam hits
Avoid Eye Tentacle Emerge if in middle ring
Maintain spacing
Phase 2
Drink going into phase if possible
Tanks need strong healing when tanking Giant Eye Tentacles
Maintain spacing where possible
If swallowed heal melee and casters until 7 stacks then leave stomach
Continue to heal tanks during weakened phase, otherwise DPS boss

Hunters
Strong NR geared hunter can take point going into room and once in place feign death and change to dps gear
You will betray your friends.